Singer Factories - Wittenberge, Prussia
The Singer factory in Wittenberge, Prussia was established in 1903 and started production of sewing machines in 1904. After 1939 sewing machine production was limited when most of the factory was allocated to military production during the Second World War.
At the end of the war Wittenberge found itself in the Eastern section of Germany under Russian control. To start with it was unclear what had happened to the factory but then in June 1946 Douglas Alexander, the Singer President, broke the news to the AGM that he had just heard that the machinery had been removed from the Wittenberge factory and taken to Russia as war reparations.
Some sources have estimated that between 1904 and 1943 a total of approx. 6.5 million Singer sewing machines were produced by the Wittenberge factory, but evidence from dated receipts with serial numbers seems to suggest it was far less than that. Besides various industrial models, the factory produced 15D, 66D, 201D and 206D domestic models.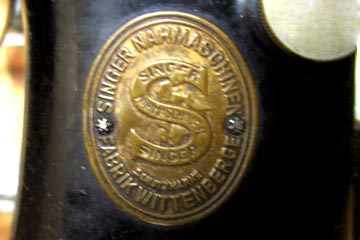 Singer machines produced at the Wittenberge factory were identified by a suffix D added to their model numbers. Their serial numbers took the form of 'C' followed by up to 7 digits which were allocated sequentially.
IMPORTANT - There are no records of serial numbers for machines made at Wittenberge. Several websites publish what they claim to be Wittenberge serial numbers, but they all seem to be copied from one source without checking their validity. That source made them up as their estimate of what they could have been, not what they actually were. They are not accurate and seem to massively over-estimate the total production. As a result they indicate many machines to be about 10 years older than they really are according to dated receipts.
After WW11 the machinery from the Wittenberge factory was taken as reparations and tranferred to the state run soviet sewing machine factory in Podolsk. The sewing machine heritage established by Singer in Wittenberge was continued a few years later when the factory was re-equipped and restarted as VEB Nahmaschinenwerk Wittenberge. To start with production was just a few industrial models made each year, but by 1951 household models were added and production gradually expanded. In 1955 they took over the name VERITAS from VEB Mechanik Schreibmaschinenwerke Dresden prevously Siedel & Naumann). Production finally ceased in 1991 after German reunification. A total of just over 7.5 million machines were made during the Veritas period.