Haid und Neu Sewing Machines
Haid und Neu was was established as a sewing machine repair shop in Waldstrasse, Karlsruhe, Germany on 14 April 1860 by Georg Haid and Carl Wilhelm Neu.
Initially Haid und Neu worked as sewing machine repairers, but by 1862 they had manufactured their first complete sewing machine using only hand or foot powered machinery. In 1868 a steam power plant was installed which allowed much greater production rates.
With increased production and sales the business quickly outgrew its first premises and so it moved first to Akademiestrasse, and then later to Lange Strasse (now Kaiserstrasse). It is estimated that by 1870 Haid und Neu had made approx. 5000 machines.
Following the 1882 conversion to a public company called Nahmaschinenfabrik Karlsruhe AG, major investment was made in 1883 in a new much larger factory on what is now Haid und Neu Strasse.
In 1900 the company was making over 20,000 machines each year and the company celebrated the production of its 500,000th. machine. Expansion continued rapidly and by 1908 the total production has passed 1 million.
Haid Und Neu models included Aida, Badenia, Bharat Carlton, Condor, Excella, Fidelia, Gazelle, Gloria, Gloriosa, Humboldt, Mata, Medium, Mercedes, Minerva, New Triumph, Olga, Primatic, Productor, Querida, Saphir, Saxonia, Sly Fellow, Tina, Torpedo, Vega, Velleda, Volksnahmaschine. The company also produced 'badged' machines for distributors such as Harris in the UK and for various large retailers.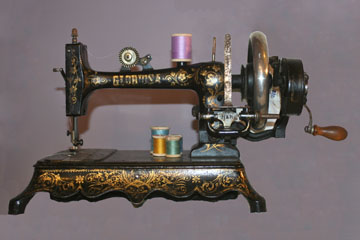 Until 1938 the majority of shares in the company were privately owned by the Strauss family. During 1940 the subsidiary company Maschinenbau Betz GmbH in Offenbach was purchased. After the Second World War a restitution of shares was made to the Strauss family in the USA, but they had no further interest in the business, so they sold them in 1951/52.
In 1951 the company entered into a license and supply agreement with Singer Sewing Machines AG, Frankfurt.
In 1958 the company was taken over by Singer and renamed as Singer Nahmaschinenfabrik, Karlsruhe. At the same time the Haid und Neu name was taken over by the Maschinenbau Betz subsidiary in Offenbach/Main, which continued to produce machines under the Haid und Neu brand until it was sold in 1963.
As Singer took over, the Karlsruhe factory continued to make the old Haid und Neu designs which were marketed as Singer models such as the 215G, 216G, 218G etc.
After the factory was refitted with the latest machinery for aluminium bodied machines, it became a centre of excellence for complex machining and provided finished machined bodies to other European Singer factories for final assembly.
The factory was renamed again in 1967 as Singer Werke GmbH before it was finally closed in 1982.