Essex Miniature Toy Sewing Machines
The Essex Miniature Sewing Machines were manufactured between 1946 and 1956 by the Essex Engineering Works at 12 Nelson Road, Wanstead, London, E11.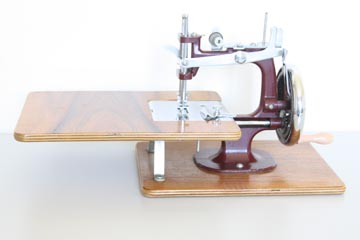 The Essex MK1 sewing machine was an almost identical copy of the Singer 20. There are a few very minor differences but they both have identical threading and operating systems. The machine produces a simple single thread chain stitch, using only one thread source i.e. no bobbin or shuttle mechanism. On the reverse side a rather delicate pattern is produced.
After the Second World War there was a shortage of full sized sewing machines, with waiting lists for models. In 1946, recognising this shortfall in the market, the Essex Miniature Sewing Machine was born and the Essex MK1 went into production. A small, simple chain stitch machine that was extremely well engineered and today models can still be found looking as good and working as well as they did over half a century ago. It was never marketed as a child's machine, although many children in the post war years were bought them as presents, but as a proper small sewing machine that was easy to operate and gave an excellent stitching finish.
To start with business was slow, but by 1956 the beautiful little maroon coloured machines were sold all over the country with around 150,000 being sold in total. For a short time the MK1 was sold with the option of an electric motor, but the world was changing and wanted a more modern looking machine and so the Essex Miniature MK2 was born.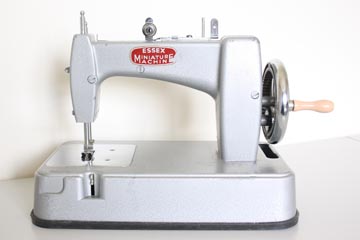 Initially the attractive new MK2 Essex Sewing Machine appeared to be a great success and was distributed by several leading department stores. It was available as a hand crank machine, or with an electic motor built in under the base. However it soon became apparent that the new design was not sturdy enough to withstand the rigours of delivery through the post. With so many machines arriving out of alignment, the number of 'damaged returns' had severe financial implications, and the company soon decided to withdraw from the business altogether.
When buying a Mk2 Essex sewing machine it is important to note that it should have a special moulded rubber base panel which clips onto the bottom of the machine. This can often be lost or perished, and its absence severely devalues the machine - so check BEFORE buying.
Both Essex models use standard, readily available 15x1 (2020) sewing needles, which are threaded from left to right.
Photos