Astor Miniature Toy Sewing Machines
The Astor is one of the rarest of the British made miniature toy sewing machines of the early 1950's that were based upon the Singer 20 design. It is rarely found outside of the most comprehensive specialist toy sewing machine collections.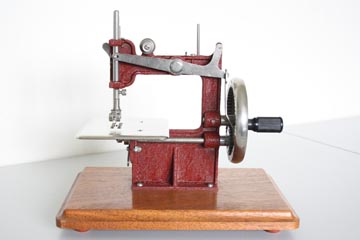 The Astor was made in Nottingham, England by the Cinemaker Company who were based in Egerton Street, Nottingham. The company was mainly known for its 'Astor' 9.5mm cine cameras and projectors, but for some reason it also ventured into the toy sewing machine market for a short while. The company is now no longer in existence.
Although similar in concept to the other British models of the time, it was better built and included little features like a brass bush in the link to the gear wheel. Also unlike other machines the Astor mostly used through bolts with nuts, rather than tapped holes in the main frame.
The Astor was normally finished in maroon fine crinkle paint and mounted onto a solid mahogany base panel which had 4 maroon rubber feet to match the machine. A few very rare examples were finished in a similar black crinkle finish. The User's Instruction leaflet shows the machine with a 4 spoked handwheel, and the box shows a perforated rocker arm. However, all the examples that we have seen have had a solid wheel with the name ASTOR embossed into it and an unperforated rocker arm.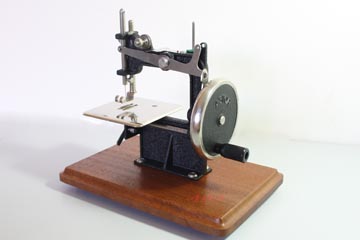 The Astor toy sewing machine uses 15x1 needles, which are threaded from left to right.