Restoration and Refurbishment Projects For Sale
We are able to offer a number of interesting vintage sewing machines in unrefurbished condition. We are offering these machines for sale as restoration projects on behalf of a UK registered charity, which will receive the full value of the machines.
The condition of machines offered varies, but in general they have been selected as being suitable for refurbishing to make nice working machines and/or feature display pieces.
No responsibility is accepted for faults, missing parts, or hidden problems which were not apparent at the time of sale. All machines are offered on the strict understanding that they are without any warranty and are not returnable for any reason after purchase.
If you would like to inspect any machine before purchase that can usually be arranged.
These are one-off items and so are offered subject to prior sale.
Machines can be collected by arrangement on most weekdays from the Southampton area, or they can be packed to be delivered by courier at the buyer's risk and extra cost.
Please Click on photos to enlarge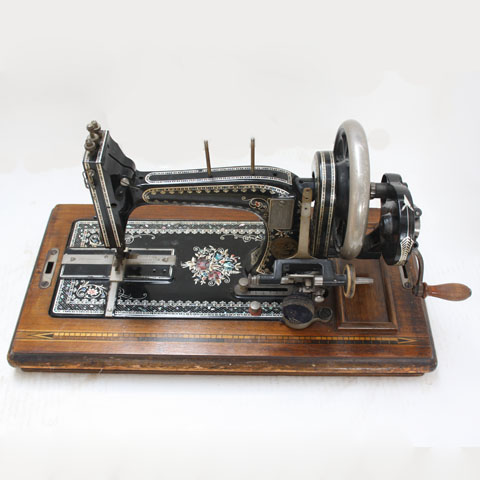 Clemens Muller
Stock Code : M9050
A beautifully decorative machine with plenty of Mother Of Pearl inlay in remarkably good condition for its age.
The machine is badged 'A Jacob y Cia - Valpariso', but is beleived to have been manufactured for them in Germany by Clemens Muller around about 1890. It appears to be the same as the 'La Reina' model by Clemens Muller.
The wooden base has a classic marquetry panel along the front. The base is on need of some restoration. It does not have a cover on the base.
PRICE ***** SOLD *****