Lead (All Lead) Miniature Toy Sewing Machines
The Lead Mk1 miniature toy sewing machine was a Singer 20 clone made in Japan between April 1933 and August 1941. For a time it was also branded as an 'All Lead'. In 1931 the company was known as All Lead Mishin Seisakusho but in 1933 it was renamed Nakajima All Mishin Seizosho. Some machines were marketed under the 'All Lead' brand and others just as 'Lead'.
The Lead Mk1 machines were finished in black gloss and came on a wooden base with a 'bentwood' domed cover like many full size Singer sewing machines of the era.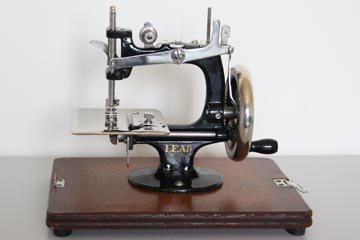 Like the later British made Essex, Grain and Vulcan Mk1 minature toy sewing machines, the Japanese Lead Mk1 was very much copied from the classic Singer 20 design and follows the same basic form.
The Mk2 Lead was a similar machine to the Mk1, but slightly larger.
Little detail is known about the production of the Lead machines, but the fact that they seem to have survived in better condition than most of their newer contemporary rivals would indicated that they were well made with better quality plating etc.
The Lead Mk1 uses standard 15x1 (2020) needles.
Photos (Lead Mk1)