Vickers / British Sewing Machines
Unfortunately most of the information that has been published about the Vickers sewing machine business seems to be conjecture, coupled with some fanciful embellishmemts in order to make an exciting story, where there probably wasn't one to start with.
During 1914 the Vickers company made the decision to diversify into sewing machine production and so they establshed a small factory for this purpose in Hackney Wick, London. With the outbreak of WW1 the factory was taken over for armaments production, which was already the main business of Vickers.
At the end of WW1 Vickers sewing machines began being produced at the company's large Crayford Works. These were initially distributed by W. Pierssene of 24/25 Fore Street, London. Before the war Pierssene had been the U.K. distrubutor of the German Frister & Rossmann machines.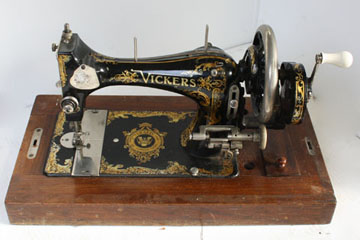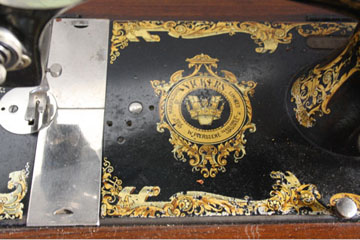 The first Vickers model is clearly very similar to a Frister & Rossmann design, and so there has been speculation that Pierssene was somehow involved with supplying Vicksrs with the F&R designs. This is almost certainly fanciful and unfounded, because as just a distributor, Pierssene would not have had access to the F&R manfacturing drawings. In any case they would have had little value to Vickers, who could just as easily have bought a competitor's machine off the shelf to copy, just as many other companies before then had done.
The production of Vickers sewing machines at Crayford didn't last very long. An 1929 advert shows E. Harris & Co. of Lincoln House, 296-302 High Holborn, London, WC1 as being the 'Sole Manufacturer' of the Vickers machine. E. Harris had a factory at the junction of Morden Road and Lombard Road, London SW19.
Although the Vickers name continued is use by Harris's for some years, it was later dropped in favour of BSM (British Sewing Machines).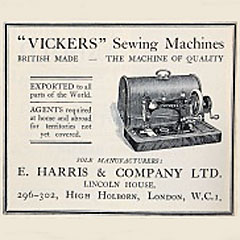 In 1950 E. Harris & Co. (and their subsidiary British Sewing Machines) were sold to Imperial and Continental Gas Association. In 1957 ICGA also purchased the Jones sewing machine business. It may be that E. Harris & Co. took over the distribution of the Jones machines at this time. In 1962 ICGA sold its sewing machine business to Brother International Group of Japan.