Désiré Bacle Sewing Machines
in 1867 M. Désiré Bacle established a prestigeous sewing machine shop at 46 Rue De Bac, Paris. The machines sold were 'badged' models imported from various manufacturers, mainly in Germany. They continued in business there until into the 20th century.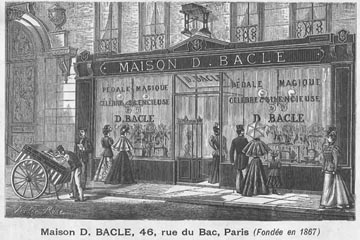 On 14 November 1888 Bacle patented his own design of treadle stand which he called his 'Pedale Magique'. This was a novel design that incorporated a free motion mechanism between the foot pedals and a flywheel which drove the machine. This device was exhibited at the Exposition Universelle Internationale. Paris in 1889.