Singer Featherweight Model 221K-7
(White Models)
The design of these 'last of the line' 221s was 'improved' in order to reduce costs. The cam and rocker mechanism that had been used to transfer drive to the bobbin and feed-dog mechanism was replaced with an internal toothed belt to connect the upper and lower drive shafts. This makes K7 machines slightly quieter than their predecessors. The extension table was shortened slightly thus making the machine even lighter. The foot controller was of the new clam shell design being used for other models and it was wired directly into the machine without a separate plug and socket.
The motors used on 221K7 machines was of the CAK8-8 type.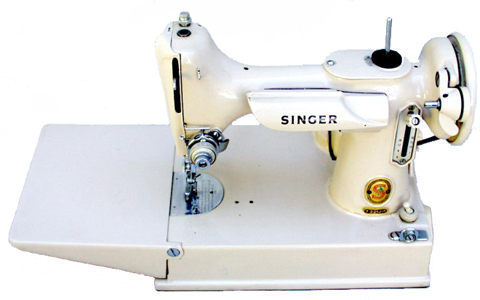 These K7 221 machines were painted white and had no longer had any decorative decals. To save costs, Singer used the original black motors and just painted over them. The paint did not adhere that well to the bakelite motor housings and so they are very prone to chipping in this area.
In later models the extension table was lengthened again. The K7 models were provided with a new storage case which was similar to the one used for earlier models, but it was pale blue with a dark blue lid in Europe and Canada, or light and dark green for the USA.
Photos