Bell Micro MB & 102
The Bell Micro portable electric sewing machine model MB was also sometimes referred to as the model 102. It was one of the most beautiful and stylish miniature sewing machines made, and today examples in good condition are highly prized by collectors.
The Bell Micro MB's and 102's were produced in either beige or green and were manufactured during the 1950's. Early machines bear the name Bell Manufacturing Corp. of E. South Street, Freeland, Pennsylvania which was associated with I.J. Morrit Corp. but by 1953 the name had changed to Bell Portable Sewing Machine Corp. Some time after this it moved to New Jersey. Later models were labelled 'Made By I.J. Moritt Corp. of New York'.
In 1954 the machines were being sold in the USA for $79.95.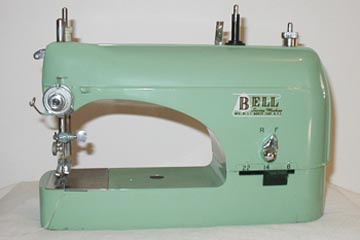 The machine itself measures just 9" long x 7" high x 3" wide. Despite its diminutive size, the Bell Micro is a full function sewing machine that was clearly never meant to be a toy, but a proper sewing machine for occasional household use.
The Bell Micro uses standard 15x1 needles and small plastic bobbins which are the same size as the metal ones used in the Singer 29-4.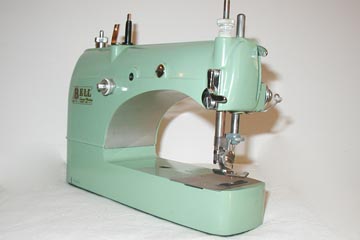 The Bell MB (102) was supplied with a full range of tools, and special attachment feet for almost every sewing need. Cleverly, the machines were also provided with a table clamp that fixed underneath the machine so that they could be mounted over the edge of a table. With its narrow bed this meant that it acted like a free arm machine.
The Bell Micro Portable Sewing Machine was supplied in either a base with clip-on cover, or in a special leatherette covered wooden briefcase style carrying case measuring just 14" wide x 10" high x 4" thick.
For the models with storage cases, the machine fitted into the main compartment whilst the foot pedal was housed in a separate side compartment. At the front, a third compartment with a sliding cover held all of the attachments for the machine. The case also housed a bed extension which fitted into the open case lid to mount the machine.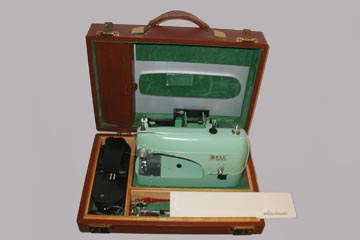 The Bell Micro MB (102) can be set on a table, set up in its case and even clamped to the edge of a table to use like a free arm machine.
Many thanks to Lynn Kenan for the photos and much of the data regarding this lovely machine