Grain Miniature Toy Sewing Machines
Ernest Leslie Grain had first established a small engineering company in Nottingham in 1930, but after WW2 he was looking to diversify into new markets. Having previously worked as a mechanic for Willcox & Gibbs it was perhaps quite a natural step for him to consider what seemed to be an opening in the miniature/toy sewing machine market. In 1946 the company was duly renamed as E L Grain (Sewing Machines) Ltd. By early 1947 the first Mk1 Grain miniature chain stitch sewing machines were being produced.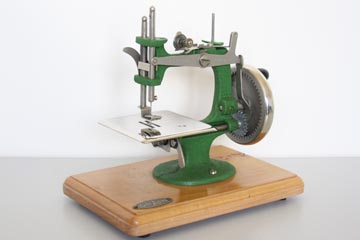 Grain, like other companies such as Essex and Sydney Bird Ltd. (Vulcan) very much copied the already successful design of the Singer 20. The Grain machines produced an excellent chain stitch and were well built so that many still survive in excellent condition 50/60 years later.
The first Grain machines were painted a crinkle black and only sold locally in Nottingham by the GeeDee Company. However very soon they began to be sold nationwide by a varity of retailers and to make them more appealing and eye catching, they were changed to either bright green, or a rarer red for the more expensive variations.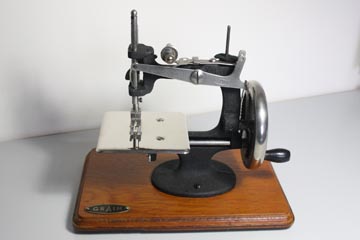 Although the basic Grain Mk1 machines remained unchanged throughout their production, upgrades were introduced by adding optional extension tables, drawers, cases, tables etc. There are however a couple of minor differences which can be used to verify early black models. Because the original black models command a very substantial price premium, there is always the risk of an attempted forgery by repainting.
Before buying a 'black' Mk1 Grain machine we strongly suggest that you read our special page about the special identifying features.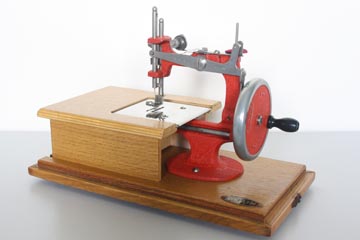 The prices of Grain miniature sewing machines started at just under £3.50 (£3-9s-11d) for the basic green model, £4.50 (£4-9s-0d) in either a domed bentwood or square case, £5.50 (£5-9s-11d) for the model with extension table, drawer and cover, and nearly £9.50 (£9-9s-0d) for the top of the range red model in a free-standing table. Considering that at the time £10 was more than a week's wages for most families, it is not surprising that these are quite rare.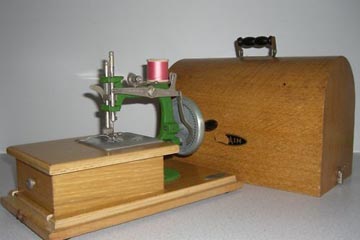 By the late 1950's sales were declining and in 1958 the company embarked on the development of a new Mk2 model designed from scratch.
The Grain Mk2 was introduced on sale in 1959 with a styling very reminiscent of an American Diner or Sci-Fi space adventure of the time. It should have had immediate mass-market appeal, but unfortunately the high standard of engineering with bronze bearings, thick wooden base etc. made it too expensive at a time when cheap imports were flooding in from Japan. The Grain Mk2 was thus short lived and by 1961 the company gave up manufacture of miniature sewing machines and changed to distributing and servicing full size domestic and commercial sewing machines in the Nottingham area.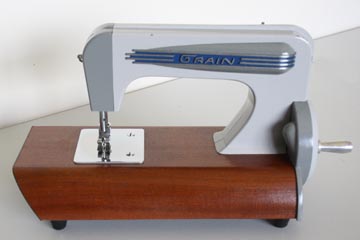 The Grain sewing machines use standard, readily available 15x1 (2020) sewing needles, which are threaded from left to right.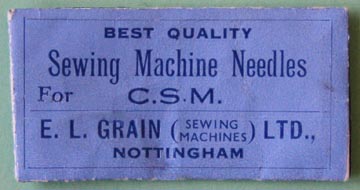 Photos