Weir Sewing Machines
James Galloway Weir started his sewing machine business in 1867 with premises at 2 Carlisle Street, London. Weir imported his machines from Charles Raymond in Canada, and sold them as the 'American' which had a straight base, or the 'Globe' which had a scroll base and a ball on the presser foot lever.
From 1871 Weir misleadingly marketed the machines as though he were the manufacturer and sold them as the Weir 55/- (55 shillings or £2.75).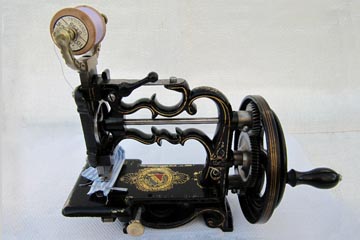 In 1872 Weir initiated a patent for certain improvements to the Raymond design. These improvements featured a new bobbin winder, redesigned thread tension device, looper, needlebar and helical gears. The original looper used to form the stitch had been patented by Frederick W. Parker of Sheffield in 1859. This new improved model took over the name of 'The Weir's 55/- Sewing Machine' whilst the old models were renamed 'The Globe' and sold for 42/-.
During 1876 after falling out with Raymond, Weir established the Automatic Machinery Co. Ltd. at Ferdinand Place, Chalk Farm Road, London but this was wound up in September of 1878 and production of the Weir machines was taken over by a French company.
James Weir retired from business a very wealthy man in 1898.