Toy Sewing Machines For Sale
We are able to offer for sale a number of special Toy Sewing Machines from our own collection.
To check availability and delivery costs, please contact us quoting your location and the appropriate Stock Codes.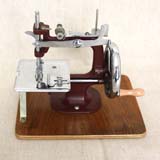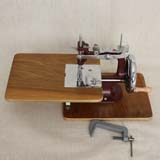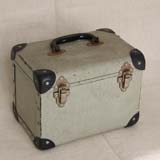 Essex Mk 1
Stock Code : M3363
A particularly nice example of the fabulous little British chain stitch toy sewing machine made by Essex in the 1950's.
The bright chrome work is in good, well above average condition, but there is a light curved scratch in the surface of the throat plate due to the seam guide having been rotated at some time.
The machine is mounted on a polished veneered plywood base and is complete with a matching wooden extension table which slides onto the stitch plate.
The machine comes in its orignal storage case, which does have some wear marks. It also has its orignal 'G' clamp for attaching it to the edge of a table.
Price : ***** SOLD *****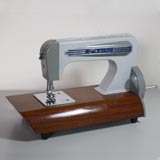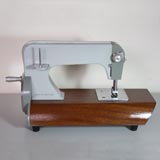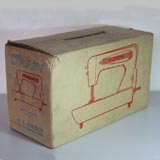 Grain Mk 2
Stock Code : M3099
Usually regarded by serious collectors as the ultimate British made toy sewing machine, this is a superb example of the rare Grain Mk2 model.
Not only does the Mk2 Grain have a unique and stunning retro styling, but it is superbly engineered with bronze bushes throughout. It also features a clever mechanism to prevent the handle from being rotated the wrong way.
This lovely example also has its original box which is also in good condition, except for just one inner flap missing.
price: ***** SOLD *****