Singer 319K & 320 Sewing Machines
The Singer model 319K and 320K zigzag sewing machines were developed from the model 306 machine. The 320K was essentialy a free arm version of the 319K and is otherwise very similar.
The 319K was manufactured between 1956 and 1961, whilst the 320K was manufactured from 1958 until 1961.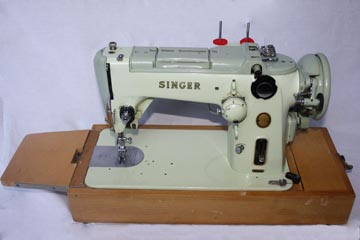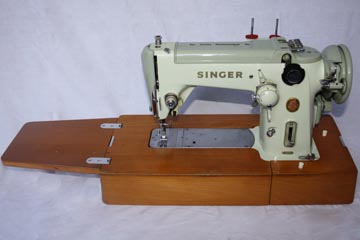 The 319K/320K machines use the industrial type 20U bobbins and Type 206x13 needles which have a shorter point than the classic 15x1 needles used on most other models. It is essential that 15x1 needle are NEVER used in these machines, or the bobbin case can be damaged. These machines were provide with several basic built in stitch patterns operated by piano keys on top of the machines.
These were supplemented by a set of 25 extra Type A pattern cams that were supplied with each machine. These could be easily fitted onto a holder at the front of the machine. By combining the use of the piano keys with the external cams, even more patterns can be produced.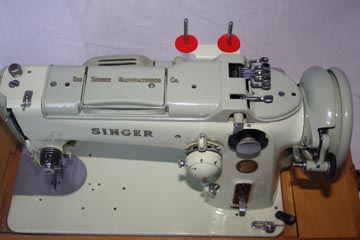 The drive to the shaft operating the hook assembly and the feed dogs is transferred down the main column by the same stapled fabric timing belt previously used in the model 206 and 306 machines.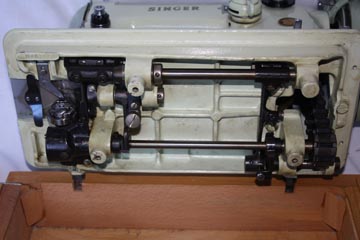 The wooden bed of the 320K free arm machines can be removed in 2 sections. Each section is held on by spring loaded latches which can be released by a button mounted on the bed.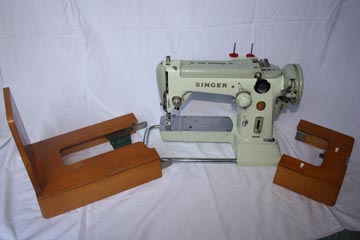 Technical Details
| | |
| --- | --- |
| Size | Full size (14-5/8" base) |
| Motor | Singer BAK-60 (external with V belt) |
| Drive Belt | Simanco Part No. 196386 |
| Speed Control | Bakelite Style B1 foot controller with Style 1A Connector |
| Needle | 206x13 (flat to back), 306x3 twin |
| Needle Threading | Front to back |
| Bobbin | Metal 20U |
| Finish | Pale Green |