Singer 306 Sewing Machines
The Singer model 306 sewing machine was a development of, and replacement for, the cast iron bodied Singer 206 with which it shared the same operating mechanism and many of the same parts. The 306K machines were produced at the Kilbowie factory between 1954 and 1961. They were finished in either black or a tan colour, but a few were made with a tan crinkle finish to the pillar, top arm and top cover plate.
306W models were identical machines, but made in the Bridgeport, Connecticut factory and 306M models were made in Monza, Italy. The Singer 319K was a very similar sister model to the 306K made between 1956 and 1961.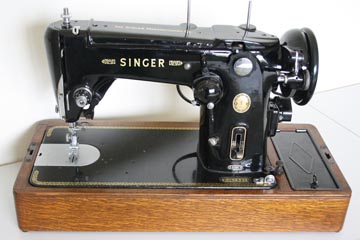 The Singer sewing machine models 206, 306, 319 & 320 models used a removable bobbin case which takes special type 55623 large capacity bobbins. The bobbin case mounts vertically into the hook from the front. It is therefore necessary to tilt the machine backwards to access the bobbin case underneath the bed. To make this easier, the base is provided with a latch to support the machine in the tilted back position.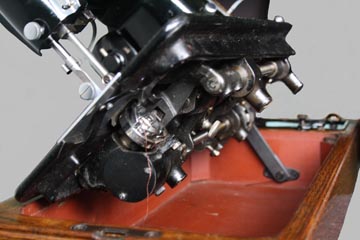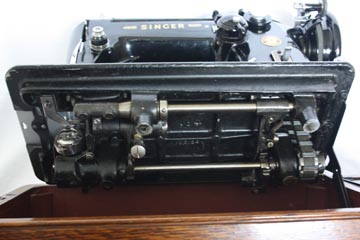 These models use needles with shorter points than the common 15x1 needles used on most other models. It is essential that ONLY the correct type 206x13 needles are used in these models, or else serious damage can result.
The Singer model 306 sewing machine was advanced for its time, as it featured a cast aluminium body and included a built in zigzag capability. The machines had twin spool pins and tension discs so that they could be used with twin needles for decorative stitching. The 306K machines have full reverse feed faciltiy as well as a method of disconnecting the feed for free motion and embroidery work.
Earlier models known as the 'Automatic Swing-Needle 306K' had the facility to automatically produce different stitch patterns by mounting plastic pattern discs (cams) into a holder at the top of the main pillar. Later models such as the 306K22 and 306K23 did not include the use of pattern cams.
Technical Details
| | |
| --- | --- |
| Size | Full size (14-3/4" base) |
| Motor | Singer BAK (external with V belt) |
| Drive Belt | Simanco Part No. 189651 (38.5cm O.D) |
| Speed Control | Bakelite foot pedal (Style B) |
| Needle | 206x13 (Flat to back) |
| Needle Threading | Front to back |
| Bobbin | Type 55623 |
| Work Light | Fitted to rear |
| Finish | Black or Tan |
| From Number | To Number | Quantity | Date |
| --- | --- | --- | --- |
| | | | |
| EJ 474143 | EJ 484142 | 10000 | 29 January 1954 |
| EJ 626272 | EJ 646271 | 20000 | 22 April 1954 |
| EK 000001 | EK 016475 | 16475 | 9 November 1954 |
| EK 303939 | EK 319938 | 16000 | 8 March 1955 |
| EK 459451 | EK 479450 | 20000 | 2 May 1955 |
| EL 115501 | EL 135500 | 20000 | 24 January 1956 |
| EL 281120 | EL 301119 | 20000 | 20 March 1956 |
| EL 517735 | EL 537734 | 20000 | 12 June 1956 |
| EL 851256 | EL 876255 | 25000 | 6 November 1956 |
| EM 188470 | EM 213469 | 25000 | 19 February 1957 |
| EM 436983 | EM 461982 | 25000 | 14 May 1957 |
| EM 621007 | EM 646006 | 25000 | 15 August 1957 |
| EM 824008 | EM 874007 | 50000 | 18 October 1957 |
| EM 977521 | EM 999999 | 22479 | 11 December 1957 |
| EN 111513 | EN 131512 | 20000 | 23 February 1958 |
| EN 243334 | EN 423333 | 180000 | 1 May 1958 |
| EN 566334 | EN 616333 | 50000 | 24 June 1958 |
| EN 649334 | EN 699333 | 50000 | 4 August 1958 |
| EP 489072 | EP 509071 | 20000 | 11 September 1959 |
| EP 658473 | EP 678473 | 20000 | 6 November 1959 |
| EP 892023 | EP 922032 | 30000 | 22 January 1960 |
| ER 278034 | ER 303033 | 25000 | 25 May 1960 |
| ER 518534 | ER 548533 | 30000 | 21 July 1960 |
| ES 142844 | ES 152843 | 10000 | 12 October 1960 |
| ES 364844 | ES 414843 | 50000 | 6 February 1961 |
| ES 601644 | ES 606643 | 5000 | 2 May 1961 |