Singer 457 'Stylist' Sewing Machine
The Singer 457 'Stylist' sewing machines was one of a new generation of domestic sewing machines when it was introduced in 1969. The 457 Stylist was finished in a trendy beige colour and was of a much sleeker appearance than the old 'black' Singer's which had been the standard almost since sewing machines were invented well over 100 years earlier. Although it still retained a metal body the top cover, spool pin, controls backplate etc. were all made of plastic. The 457K's motor was integrated inside the machine with a toothed belt drive.
The machine provided a built-in facilities for zig-zag, blind stitching and using twin needles. The 457K 'Stylist' used a brown version of the rectangular plastic foot pedal speed controller which had already been a Singer standard design for some years.
A feature of the 457 Stylist was that it had a quick release needle plate which was released when the bobbin cover plate was slide fully open. The standard needle plate could then be replaced with a slighty raised alternative plate to allow free motion work embroidery etc. without the feed dogs engaging the fabric.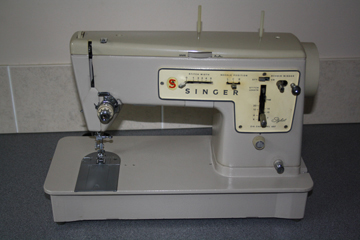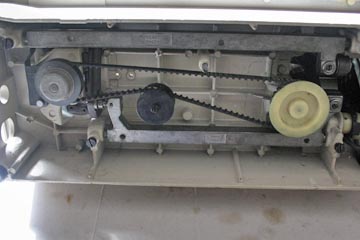 Some versions of the 457 machines had an extra knob at the front of the bed which enabled the feed dogs to be lowered. This does away with the need to replace the throat plate for free motion work.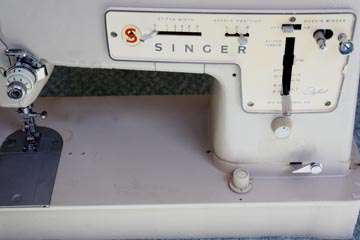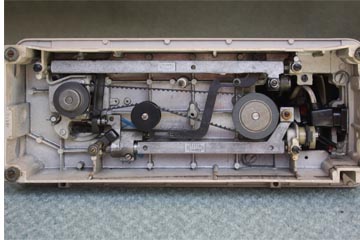 Technical Details
| | |
| --- | --- |
| Size | Full size (16-1/2" x 7" base) |
| Motor | Internal with toothed belt |
| Speed Control | Plastic hinged rectangular foot pedal (Style E) |
| Needle | 15X1 (Flat to back) |
| Needle Threading | Front to back |
| Bobbin | Plastic class 66 |
| Work Light | 15w |
| Finish | Beige |
Photos