Singer 12 'New Family' Sewing Machine
This is one of the earlier examples of the fiddle base 12K 'New Family' sewing machines. It therefore has the slide-on wooden case, simple bobbin winder, wire type take-up lever and the lever type stop-motion device for the balance wheel.
The machine is complete with its needle, shuttle and bobbin and sews well, but both the case and the machine could do with some cleaning, hence its lower price.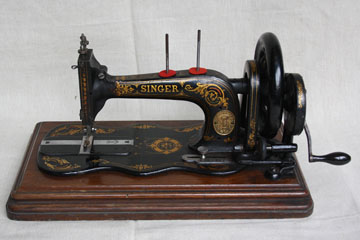 The machine is housed in an original Singer slide-on mahogany? case complete with key.
***** SOLD *****
Ref. M2438
Technical Details
| | |
| --- | --- |
| Serial No. | 5741xxx |
| Date | 1883 |
Photos
Click photos to enlarge