Singer 285, 275 & 292 Sewing Machines
The Singer model 285 sewing machine was made in both the Kilbowie, Scotland and St. John's, Canada plants during 1963-1965. The suffixes 'K' and 'J' were added to the model numbers accordingly to indicate their manufacturing location.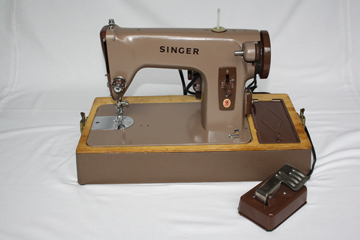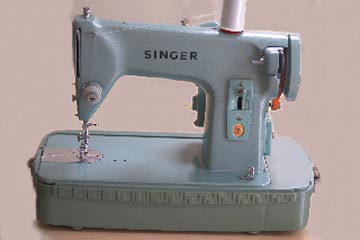 The Singer model 285 was a development of the 185 model which it replaced. The 185 had in turn a few years earlier been a cosmetically re-packaged version of the long serving model 99K, re-using many of the same parts as the 99. Although the 285K looks almost identical to the 185K it had a competely new oscillating rack and pinion drive arrangement to the lower hook mechanism under the bed. Unfortunately this 'improvement' was not well received, as it tended to make the 285 machines both noisier and subject to vibration.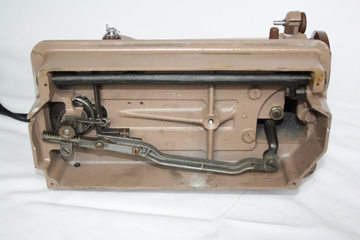 The Singer model 275K was virtually identical to the 285K except that the foot pedal speed controller was permanently wired in instead of using the normal 3 pin plug and socket.
The Singer model 292 was the same as the 285, but with just some minor cosemetic differences.
Technical Details
| | |
| --- | --- |
| Size | 3/4 Full size (12-1/2" base) |
| Motor | Singer BZK-60 (external with V belt) |
| Drive Belt | Simanco Part No. 196389 (32.5cm O.D) |
| Speed Control | Pressed metal foot pedal (Style D) |
| Needle | 15X1 (Flat to right) |
| Needle Threading | Left to right |
| Bobbin | Plastic class 66 |
| Work Light | Fitted to rear |
| Finish | Tan/Brown or Blue |
Serial Numbers
| From Number | To Number | Quantity | Date |
| --- | --- | --- | --- |
| | | | |
| EV 244017 | EV 254016 | 10000 | 15 May 1963 |
| EV 588839 | EV 598838 | 5000 | 20 November 1963 |
| EV 721489 | EV 771488 | 50000 | 6 February 1964 |
| EV 970199 | EV 990198 | 20000 | 11 June 1964 |
| EX 065508 | EX 085507 | 20000 | 14 August 1964 |
| EX 322214 | EX 342213 | 20000 | 7 November 1964 |
| EX 402915 | EX 432914 | 30000 | 14 January 1965 |
| EX 501624 | EX 521623 | 20000 | 30 March 1965 |
| EX 591625 | EX 611624 | 20000 | 30 March 1965 |
| EX 647237 | EX 667236 | 20000 | 18 August 1965 |
The serial numbers for the Canadian built machines are not included (Can anybody help with these ?)
Photos