Singer 'Medium' (13,13K) Sewing Machines
The Singer 'Medium' sewing machine, (later referred to as the Model 13 and 13K) was introduced in 1870. It's mechanism was based on the New Family (model 12 & 12K) design, but with a longer arm and a bed measuring 15-1/2" x 7-3/8". It was designed as a semi-industrial machine and was only sold mounted in a treadle table.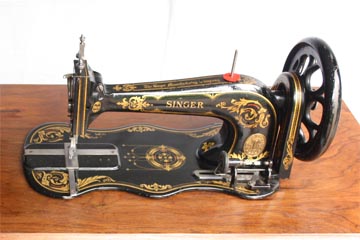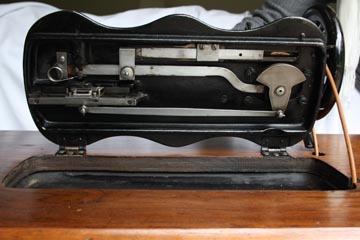 The model 13 and 13K 'Medium' machines were produced with different adaptations for specialist industrial work. The 13 and 13K models are easy to distinguish from the smaller New Family machines as they have an extra sliding inspection plate running out from in front of the needle plate.
Like the New Family machines, the 13 and 13K models were originally of the fiddle base design with gold 'Acanthus' pattern decals.
The model 13 and 13K machines used round shank straight type 13x1 needles and a similar boat shaped shuttle to the New Family (12, 12K) machines.