Singer 115 and 115J Sewing Machines
It would appear that the 115 was introduced as a replacement for the 9W7 when it was decided that the Bridgeport factory would caese producing domestic models after 1912. When Singer took over the Wheeler & Wilson Bridgeport factory in 1905, they initially continued to make old W&W model D9 badged as the Singer 9W. As the stock of W&W parts was used up, they 'Singerised' the design to become the 9W7.
The 115 machines were clearly based on the 9W7 design with a rotary hook mechanism, but with peripheral features borrowed from the class 15 models. They used different bobbin cases that used the industrial 20U style of bobbins.
The 115 machines were decorated with a decal pattern known as 'Gold Wings'.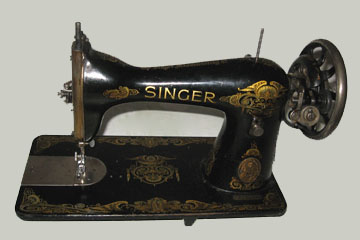 Of the total of 321,657 made, 228,375 were made in the Elizabethport, New Jersey factory, with 53,282 model 115J's also made in the St. John's factory in Canada.
Model 115 Elizabethport Serial Numbers
| From Number | To Number | Quantity | Date |
| --- | --- | --- | --- |
| | | | |
| G 2122001 | G 2124000 | 2000 | 20 June 1912 |
| G 2328401 | G 2329400 | 1000 | 7 September 1912 |
| G 2487001 | G 2488500 | 1500 | 26 November 912 |
| G 2727501 | G 2729500 | 2000 | 6 January 1913 |
| G 2742951 | G 2745950 | 3000 | 19 February 1913 |
| G 2938001 | G 2941000 | 3000 | 24 April 1913 |
| G 3080401 | G 3085400 | 5000 | 24 June 1913 |
| G 3264001 | G 3269000 | 5000 | 17 September 1913 |
| G 3314001 | G 3317000 | 3000 | 12 November 1913 |
| G 3364501 | G 3369500 | 5000 | 10 December 1913 |
| G 3424951 | G 3429950 | 5000 | 4 February 1914 |
| G 3497676 | G 3502675 | 5000 | 18 March 1914 |
| G 3599476 | G 3604475 | 5000 | 28 April 1914 |
| G 3693601 | G 3703600 | 10000 | 10 June 1914 |
| G 3797826 | G 3799825 | 2000 | 15 September 1914 |
| G 3827501 | G 3828500 | 1000 | 4 November 1914 |
| G 3841076 | G 3841350 | 275 | 8 December 1914 |
| G 3891501 | G 3893500 | 2000 | 29 December 1914 |
| G 3946601 | G 3948600 | 2000 | 9 March 1915 |
| G 3983251 | G 3988250 | 5000 | 26 April 1915 |
| G 4087051 | G 4092050 | 5000 | 29 June 1915 |
| G 4161676 | G 4166675 | 5000 | 31 August 1915 |
| G 4196316 | G 4199315 | 3000 | 19 October 1915 |
| G 4224241 | G 4226740 | 2500 | 8 November 1915 |
| G 4240416 | G 4241415 | 1000 | 8 December 1915 |
| G 4322016 | G 4332015 | 10000 | 14 December 1915 |
| G 4520441 | G 4530440 | 10000 | 2 March 1916 |
| G 4663716 | G 4673715 | 10000 | 3 May 1916 |
| G 4814941 | G 4824940 | 10000 | 25 July 1916 |
| G 4885271 | G 4895279 | 10000 | 20 September 1916 |
| G 5094461 | G 5104460 | 10000 | 3 December 1916 |
| G 5267636 | G 5272635 | 5000 | 20 February 1917 |
| G 5385636 | G 5390635 | 5000 | 26 April 1917 |
| G 5464036 | G 5469035 | 5000 | 21 June 1917 |
| G 5731096 | G 5736095 | 5000 | 20 September 1917 |
| G 5804306 | G 5809305 | 5000 | 30 November 1917 |
| G 6003106 | G 6008105 | 5000 | 6 February 1918 |
| G 6129456 | G 6134455 | 5000 | 27 March 1918 |
| G 6220160 | G 6225160 | 5000 | 29 May 1918 |
| G 6364396 | G 6369395 | 5000 | 26 July 1918 |
| G 6493096 | G 6498095 | 5000 | 9 October 1918 |
| G 6632171 | G 6637170 | 5000 | 2 January 1919 |
| G 6898621 | G 6903620 | 5000 | 11 March 1919 |
| G 7048701 | G 7053700 | 5000 | 23 May 1919 |
| G 7197801 | G 7202800 | 5000 | 15 July 1919 |
| G 7290676 | G 7300675 | 10000 | 28 August 1919 |
| G 7548226 | G 7550225 | 2000 | 2 December 1919 |
| G 7607951 | G 7612950 | 5000 | 24 December 1919 |
| G 7827576 | G 7832575 | 5000 | 11 February 1920 |
| G 7986401 | G 7991400 | 5000 | 7 April 1920 |
| G 8110226 | G 8115225 | 5000 | 9 June 1920 |
| G 8365976 | G 8375975 | 10000 | 14 September 1920 |
| G 8528051 | G 8533050 | 5000 | 7 January 1921 |
| G 8771031 | G 8774030 | 3000 | 18 May 1921 |
| G 8932101 | G 8934100 | 2000 | 31 August 1921 |
Model 115J St. John's Serial Numbers
| From Number | To Number | Quantity | Date |
| --- | --- | --- | --- |
| | | | |
| G 3793226 | G 3797225 | 4000 | 21 August 1914 |
| G 4048251 | G 4053250 | 5000 | 21 April 1915 |
| G 4717641 | G 4719640 | 2000 | 12 June 1916 |
| G 4948471 | G 4950470 | 2000 | 20 October 1916 |
| G 5134511 | G 5142010 | 7500 | 8 January 1917 |
| G 5573236 | G 5583235 | 10000 | 19 July 1917 |
| G 6665371 | G 6675370 | 10000 | 9 January 1919 |
| G 8620551 | G 8625550 | 5000 | 28 January 1921 |
| G 3793226 | G 3797225 | 4000 | 21 August 1914 |
| G 9037301 | G 9042300 | 5000 | 26 September 1921 |
| G 9995231 | G 9998116 | 2882 | 4 May 1923 |